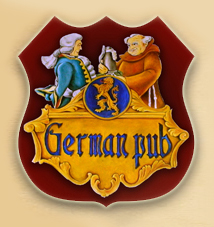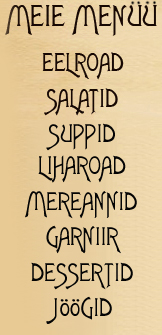 Liharoad / Блюда из мяса / Meat dishes

Sealiha | Свинина | Pork



"Sealiha Maamodi" Praetud sealiha, maakartulid, pohla-ja värske juurviljatega.
"Свинина по-деревенски" Жаренная свинина с деревенским картофелем, клюквой и свежими овощами.
"Pork in a rural way" Fried pork with a rural potato, a cranberry and fresh vegetables
250/200 gr.
9 €
"Seapraad" Sealiha marinaadis, praetud baklazaan, kartulid seentega, värsked juurviljad
"Жаркое из свинины" Свинина в маринаде, жареный баклажан, картофель с грибами, свежие овощи.
"Roast from pork" Pork in marinade, a fried eggplant, a potato fried with mushrooms, fresh vegetables
250/70/200 gr.
9,5 €
Sealiha Prantsuse moodi
Свинина по-французски
Pork a la France
180 gr.
6,00 €
Sealiha Hispaania moodi
Свинина по-испански
Pork a la Spain
180 gr.
6,50 €
Praetud sealiha olles friisibulaga
Свинина жареная в пиве с луком фри
Pork fried in beer with fried onions
120/80 gr.
6,50 €
Praetud sealiha ananassiga, juustuga ja kartulipannkoogiga
Свинина, запеченая с ананасом и сыром, с картофельными дранниками
The pork baked with pineapple and cheese, with potato fritters
200/150/100 gr.
8,50 €
Praetud sealiha juustus
Свинина «Хрустящая»
"Crackling" pork
190 gr.
8,00 €
Sealiha seene kastmes
Отбивная свинина с белым грибным соусом
Pork with white mushrooms sauce
120/70 gr.
7,00 €
Sealiha juustuga leivas
Cвинана с сыром в лаваше
Pork with cheese in an unleavened wheat cake
120/30/30 gr.
6,50 €
Veiseliha | Говядина | Beef



Praetud veiseliha karbonaad
Отбивная из говядины
Chop from beef
170 gr.
10,00 €
Hautatud veiseliha kuivatatud ploomidega
Говядина тушеная с черносливом
Stewed beef with prunes
120/50 gr.
10,00 €
Veiseliha peekoniga ja seenega
Говядина фаршированная беконом и грибами
Beef stuffed bacon and mushrooms
180 gr.
12,00 €
Snitsel "Pealinna"
Шницель «Столичный»
Shnitsel "Capital"
140/30 gr.
6,00 €
Kana | Кура | Chicken



Kanašašlõkk leivas
Куриный шашлык в лаваше
Chicken shish kebab in an unleavened wheat cake
120/50/30 gr.
7,00 €
Kana filee Melani moodi
Куриное филе по-милански
Chicken fillet a la Milan
200 gr.
6,00 €
Kana filee ananassiga
Куриное филе с ананасами
Chicken fillet with pineapple
120/40 gr.
6,50 €
Kana filee krevetikastmes sinikarpiga
Куриное филе под креветочным соусом с мидиями
Chicken fillet with shrimps & mussels sauce
120/60 gr.
8,00 €
Kanafileepraad juustuga
Жаркое из куринного филе
Roast chicken with cheese
150/30 gr.
8,50 €
Kana | Шашлык | Shish kebab



Kotlettid | Котлеты | Cutlet



Kiievi kotlett
Котлета по-киевски
Cutlet on-Kiev
130/30 gr.
7,00 €
Pelmeenid | Пельмени | Pelmenis